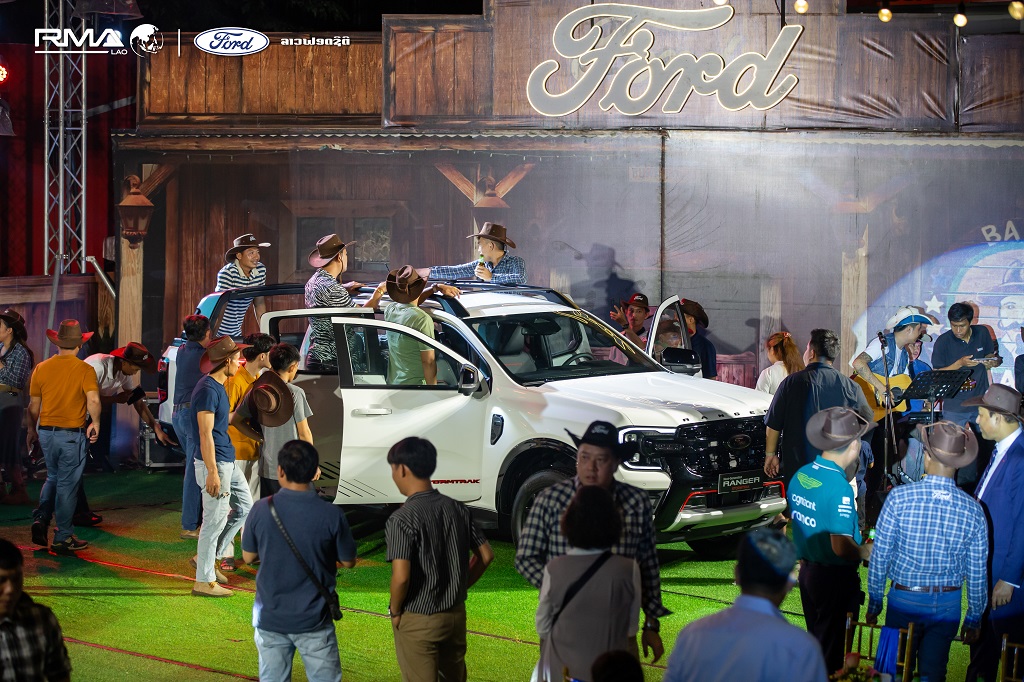 Luang Prabang city on October 5, once again delivering new standards for the automobile industry in Laos. The theme of the launch event in Luang Prabang was based on the Cowboy era and was a follow-up to the event held in Vientiane last month.The launch is a supplement to the Next-Gen Ranger Raptor V6, Ranger and Everest that were launched last year, to reach all levels of customer needs and in all parts of Laos. Lao Ford City is excited to mark another milestone with the launch of all three new models of the Ford Next-Gen Ranger Raptor 2.0L diesel, Ranger Stormtrak and Everest Wildtrak. All three models were created for adventurous souls who long for luxurious comfort and convenience, and elevate the standard of Laos' SUV market to another level. Ford has always been committed to developing a performance pick-up and luxurious comfort SUV with adventure features that enable driving in all types of terrain. With its brand new, tougher look and a range of exciting design elements, this SUV is sure to turn heads on the road.
The next-generation Ford Everest Wildtrak, the newest variant of the Ford Everest designed specifically for families, combines adventurous performance with exceptional comfort, high capabilities, and superior technologies in a rugged, refined, and fun-to-drive SUV.
In terms of performance, the next-gen Everest Wildtrak comes with a 2.0L bi-turbo engine paired with e-shifter 10-speed automatic transmission and 4WD capabilities in six selectable drive modes for maximum performance while travelling on all surfaces: Normal, Eco, Tow/Haul, Slippery, Mud/Ruts, and Sand. Inside, the cabin has been completely redesigned with black synthetic-leather seats decorated with orange stitching and the 'Wildtrak' logo on the front seats for that iconic tough look. Reflecting a true adventurer's lifestyle, the next-gen Everest Wildtrak also comes equipped with a bold grille with black 'WILDTRAK' letters on the hood.
Another entry in the pick-up segment is the New Ranger Stormtrak, especially designed for fans of adventure. It comes with a sliding sport bar with foldable rack and flexible roof rails, and an AUX lamp working with the automatic high beam headlights. It also has 10-speed transmission with a selective shifter – the first ever in the pick-up segment in Laos.
The Ranger Raptor is the high-performance off-road truck that so many customers have been begging for. It's perfectly sized for tight trails and daily life, can carry lots of gear, and is a blast to drive. The Ranger Raptor is fast, comfortable, and packed with top-shelf, purposeful technology that's designed to perform. This is the baddest Ranger we've ever made. We are now delighted to bring you the class-leading 2.0L diesel 210 hp engine with torque at 500 Newton meters. Delivering leading innovations to customers, the Next-Gen Ranger Raptor 2.0, Ranger Stormtrak and Everest Wildtrak are packed with technology to assist the driver in full. There is a fully automatic parking assist system that helps the driver to park the car in a narrow space comfortably. Drivers can access seamless entertainment with Apple Carplay and Android Auto wirelessly through the best-in-class 12-inch multi-touch display, with a 12.4 inch dashboard.
We are very appreciative to the more than 300 customers and other participants who joined the event to make this happen, and offer a big welcome to the Ford family to the five customers who bought Ford cars at the event.
Everyone is welcome to attend the next event. Please follow Lao Ford City for more information and to track upcoming events.