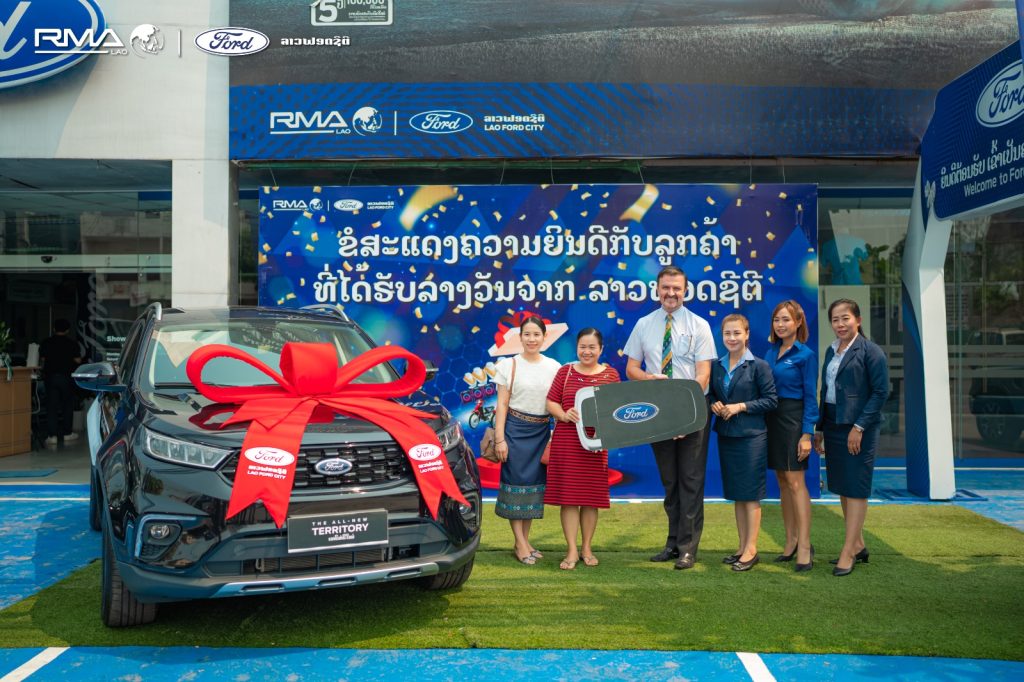 Lao Ford City Co., Ltd., a leading company that is the only authorised Ford Motor Company dealer in Laos, is running a campaign to share its profits with customers who bought a Ford vehicle between early 2022 and early 2023, with lucky draw coupons available for customers to win a car or electrical appliances.
Lao Ford City congratulated a customer named Mr Kolakan Vongsidone, who was the winner of the grand prize of a Ford Territory in the lucky draw campaign, with prizes totaling more than 700 million kip.
Lao Ford City is giving away prizes to customers who bought any Ford model from the beginning of 2022 to March 2023.
Customers will not only get the beautiful cars and lots of giveaways when they bought the car with us, they will also get a coupon to win the prize, including a 500,000 kip pizza coupon (10 prizes), a 1 million kip fuel card (5 prizes), mobile phones (3 prizes), JBL speakers (3 prizes), gold necklaces (2 prizes), and Honda Wave 100 motorcycles (2 prizes)
The last one is the grand prize of a Ford Territory SUV, with the total value of all prizes on offer worth more than 700 million kip.
To witness the draw this time, Lao Ford City invited customers to attend the event at the Indee Record Studio and live streamed it on the Lao Ford City Facebook Fanpage in all four branches across the country, so people could watch as the prizes were announced and the winners named.
Lao Ford City will continue to provide these kind of benefits for its customers and organize campaigns like this to thank and return profits to customers who use and trust Ford products.