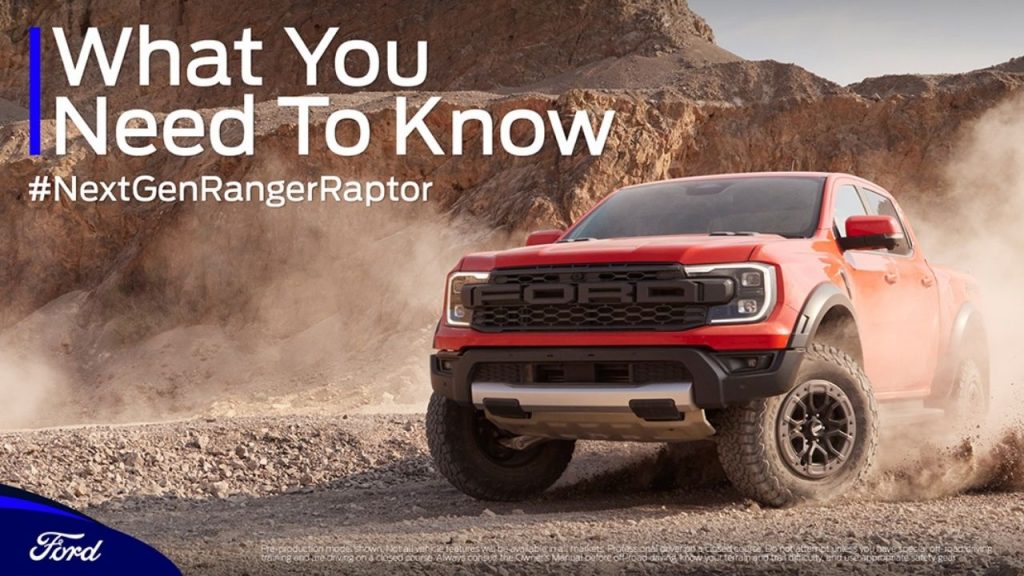 The next-generation and next-level Ford Ranger Raptor has arrived, and Lao Ford City Co., Ltd. will launch the Next-Gen Ranger Raptor for customers in Laos soon.
Built to dominate in the desert, master the mountains and rule everywhere in between, the second-generation Ranger Raptor raises the off-road performance bar as a pickup built for true enthusiasts.
Lao Ford City Co., Ltd., a lead company that is the only authorised Ford Motor Company dealer in Laos, highlighted about the next-generation and next-level Ford Ranger Raptor that, "Developed by Ford Performance, the Ranger Raptor is the ultimate performance derivative of the next-gen Ranger. With smarter technology controlling tougher, next-generation hardware, Ranger Raptor blends raw power with mechanical and technical precision to create the most advanced Ranger ever."
Ford Performance Chief Program Engineer for Ranger Raptor, Dave Burn said, "We have really focused on delivering a genuine performance truck with the next-gen Ranger Raptor. It's significantly faster, looks incredible, is packed with new features and is the strongest Built Ford Tough Ranger we've ever made."
The biggest news for performance fans is the introduction of a new twin-turbo 3.0-litre EcoBoost V6 producing up to 292kW (392hp) at 5650rpm and 583Nm of torque at 3500rpm tuned by Ford Performance.
The 2.0-litre Bi-Turbo diesel engine will be available in select markets on the next-gen Ranger Raptor from 2023, with market-specific details provided closer to launch.
The twin-turbo 3.0-litre EcoBoost V6 engine boasts a compacted graphite-iron cylinder block, which is around 75 percent stronger and up to 75 percent stiffer than the iron used in traditional castings.
Ford Performance ensured the engine delivers immediate response to throttle inputs, while a race-bred anti-lag system enables rapid delivery of boost on demand.
"The 3.0-litre brings a different dynamic to the Ranger Raptor that will satisfy even the most hard-core performance enthusiast," said Burn. "The acceleration and raw performance of the new powertrain leaves you grinning from ear to ear.
Mated to a 10-speed automatic transmission – each gear programmed with its own boost profile – the Raptor's new engine delivers effortless acceleration on gravel, dirt, mud and sand.
And with an electronically controlled active exhaust system that amplifies the engine note in four selectable drive modes.
Drivers can choose their preferred engine sound by pressing a button on the steering wheel or by selecting a drive mode that uses one of the following settings: Quiet, Normal, Sport and Baja.
Helping the next-gen Ranger Raptor handle anything from smooth roads to mud and ruts and everything in between are up to seven selectable drive modes, including the off-road oriented 'Baja' mode for extreme high-speed off-roading. In 'Baja' mode, electronic systems are configured for ultimate performance.
"We really wanted the Baja mode to be the ultimate expression of the off-road high-speed capability," said Burn. "It's a feature at the core of what the Ranger Raptor customer expects."
Each selectable drive mode adjusts a number of elements.
On-road
Normal – designed for comfort, fuel efficiency and drivability;
Sport – more responsive for spirited on-road driving; and
Slippery – for more confident driving on off-road slippery or uneven surfaces.
Off-road
Rock Crawl – providing optimum traction and momentum on loose surfaces;
Sand – for use in soft sand and deep snow conditions, optimising power delivery and transmission shifts;
Mud/Ruts – for maximum grip off-road during launch and maintaining vehicle momentum; and
Baja – tuned for high-speed off-road performance with all systems set for maximum attack.
The next-gen Ranger Raptor also comes with Trail Control™, which is like cruise control for off-roading. The driver simply selects a set speed (less than 32km/h), and the vehicle manages acceleration and braking while the driver concentrates on steering through difficult terrain.
Matching the enhanced capability of the Ranger Raptor is an all-new design that takes the design of the next-gen Ranger to the next level. Emphasising the width of the pickup are flared wheel arches, Ford truck DNA C-clamp headlights, bold F-O-R-D lettering on the grille, and the bumper that's separated from the grille.
Ranger Raptor exterior design manager, Dave Dewitt said, "Everything designed for the Ranger Raptor is there for a reason. We're communicating what Raptor can do just by the way it looks."