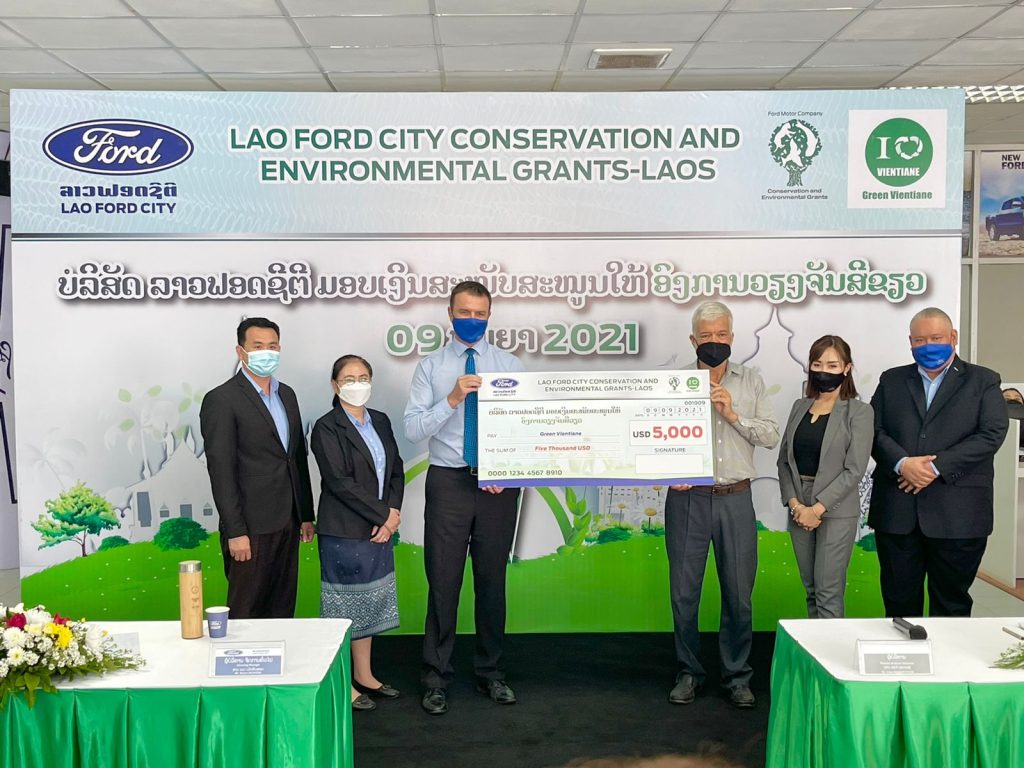 FORD DONATION HANDOVER CERAMONY TO THE GREEN VIENTAINE
On 09 September 2021, Lao Ford City Vientiane organized the Donation Handover ceremony to the Green Vientiane, total amount of $ 5,000. For the past years, Lao Ford City has always participated in Corporate Social Responsibilities as we give our full priority to protect the environment & encourage people to reduce the global warming & to fight the poverty. In past Ford Motor Company together with Lao Ford City have started supporting and donated funds to many organizations since 2012 to 2019 such as:
In 2012, a school-wide vegetable growing program was launched in the Vientiane capital with a grant amount of $20,000
In 2013, donated $20,000 for the building of Ban Sor school
In 2014, LIRE funded of $16.00 for 1623 Rescue Training.
In 2015, a scholarship worth $20,000 was awarded to LANITH School
In 2016, provided a grant of $25,000 to Suphanith International Lao PDR.
In 2017, provide funding to Congfuong for environmental protection in Laos in the amount of $25,000
In 2018, Donated to the Organization for Health and Poverty Alleviation in the amount of $25,000
In 2019, Donated $20,000 to Humanitarian and Involvement and $5,000 to Vientiane Green, valued at $ 25,000.
Ford Motor Company and Lao Ford City continues to donate the fund in 2021 to Green Vientiane, total of $5,000.  This donation will be used to fund the development of community cleanliness and the clearance of unexploded ordnance in Laos.
However, during outbreaks of the Covid-19 pandemic we also have divided our budget to help the Lao Military, Police Department and Medical Department who are on the front line to fight with the disease for the people in the country. The donation consists of food, drinking water, daily usage items and also supported short-term usage of our vehicles to fight with the disease from time to time. Lao Ford City will continue to support all the authorities to fight with the Covid-19 disease.