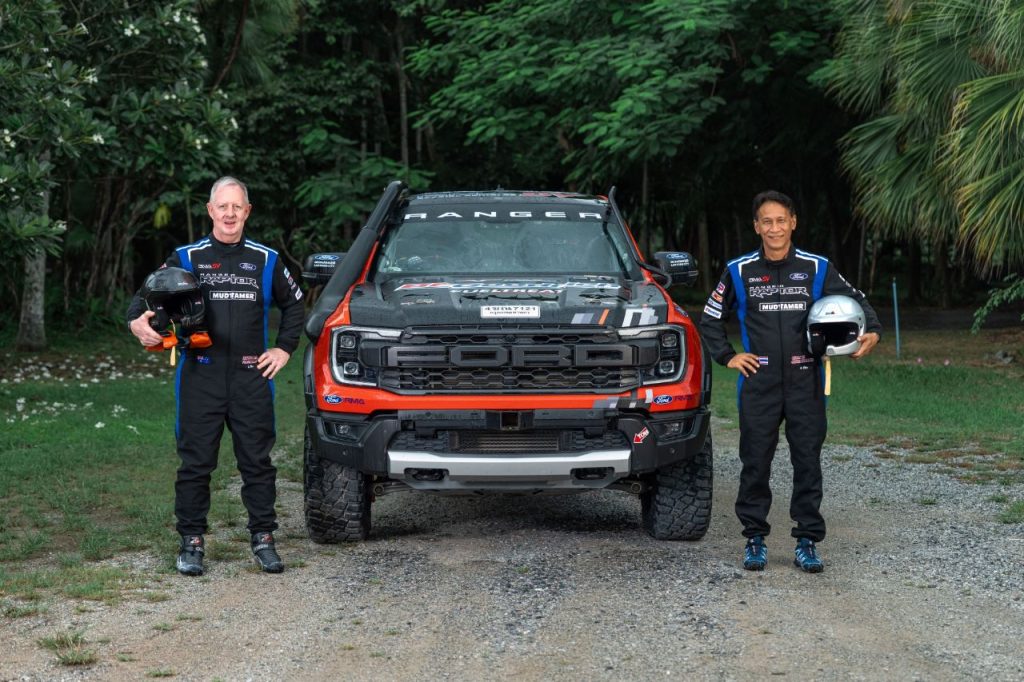 Bangkok, Thailand, 9 August 2023 – Ford Thailand announced its partnership with legendary race team Feelinq Innovation Motorsport in hitting the tracks of Asia Cross Country Rally (AXCR) 2023 with the Next-Generation Ranger Raptor, only months after conquering the 2022 SCORE-International Baja 1000 and winning the showroom class at Finke Desert Race in Australia. Praised 'unbeatable' by Thai fans, the Ranger Raptor will tackle more than 2,000 km of different challenging terrains across the countries from Pattaya, Thailand, to Pakse, Laos, running from 13 – 19 August 2023.
Led by Michael Freeman, Feeliq Innovation Motorsport accumulated its long race history on circuits with more than ten team championships since 2012. In 2023, Ford Thailand sponsors the team by providing the high-performance Ranger Raptor along with supporting parts. Combining the team's vehicle modification expertise with the Raptor's unmatched off-road capabilities, this marks the first time the Ranger Raptor entered Asia Cross Country Rally in Thailand.
As the team director with more than thirty years of race experience, Freeman himself scored several victories including his recent overall championship in the 2018 TA2 Thailand with his Ford Mustang #55. This time, Freeman will pilot the Ranger Raptor #124 in AXCR 2023 with his navigator Chaiya Chommalee – a professional rally expert who has been racing for more than forty years.
"I feel privileged and thrilled for this race opportunity as this is my first cross-country racing. This type of race is my dream for a very long time, and I am grateful that we formed this partnership with Ford Thailand at the right time. From our daily practices, we see how mentally challenging comparing to circuit races as we are using all our five senses to go through the courses. Our goal today is to gather as much experience as possible out of this race and finish the race perfectly without any mistake," said Freeman.
Next-Gen Ford Ranger Raptor #124 is entering the Production Asia (T2A) class at AXCR, which categorized the race vehicles that keep original factory engines and parts. The Raptor has been equipped with required safety harnesses and row(roll) bars. New BF Goodrich tires for extreme off-road conditions, mudguards, strengthened underbody protection as well as additional tires and winch in the truck bed are installed. Decked in the Code Orange livery that displays Ford Performance DNA and this partnership efforts, the team modified FOXTM shock absorbers, while leveraging the original 2.0L diesel bi-turbo engine, boasting the Ranger Raptor as a pickup truck that belongs to the off-road race.
"We are excited for this partnership and the opportunity to step deeper into the Thai motorsport scene in a more challenging manner. This off-road race will provide a great platform to showcase both the Ranger Raptor's off-road performance and the team's skills, allowing Ford fans to see how truly 'unbeatable' this vehicle is," said Ratthakarn Jutasen, managing director, Ford Thailand.
Asia Cross Country Rally is currently the largest cross-country rally event in Asia. Sanctioned by the International Automobile Federation (FIA), Royal Automobile Association of Thailand (RAAT), and the Association of Motorcycle Sport Club 360 Degrees, it is intended to be 'the ultimate' test for off-road vehicles in this region. Competitors will be challenged with multiple off-road terrains from mountainous areas, swamps, sand, plantation, and tarmac to circuits, not to mention unpredictable Asian climates, which will determine how skillful racers and vehicle engineers are and prove the capabilities of the vehicles.