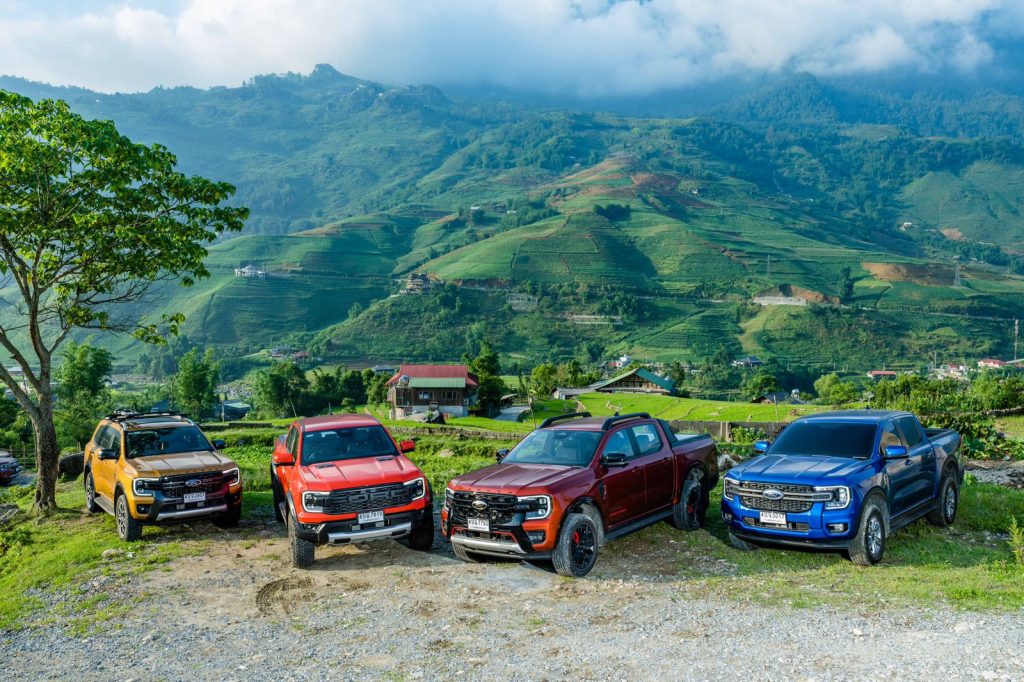 SAPA, VIETNAM, 2 Jun 2023 – Ford Asia Pacific Distributor Markets (APDM) welcomed media to Sapa, Vietnam – a location was specifically chosen for its ability to showcase the vast range of adventure-ready features in the next-generation Ranger Stormtrak, Everest Wildtrak, and Ranger Raptor. And for sure, Lao Ford City is one of the APMD who were attend for this event.
Ford will kick off the event a with test drive on the winding roads up to Sapa, enabling participants to experience the precise handling and comfort firsthand. Following this, Ford's new Ranger and Everest will confidently navigate towards Seo My Ty Lake, nestled at an elevation of 1,600 meters above sea level and encompassed by awe-inspiring natural landscapes of majestic mountains and lush green fields.
Afterward, the media will visit three stations to test the features of these new models.
Station 1: Next-Gen Ford Ranger Stormtrak – Equipped with the Flexible Rack System, the Ranger Stormtrak empowers drivers to effortlessly adjust the sports bar using just one hand and can be set in up to five different positions using just one hand. Notably, it boasts an impressive dynamic maximum load limit of 80 kilograms' dynamic and up to 250 kilograms when static. Media also have the opportunity to utilize this new feature to transport various items, such as a kayak and paddleboard, and will then have a chance to test immerse themselves in thrilling watersport experiences at the lake, which will mirror the exhilarating adventures of those Ranger Stormtrak owners seeking a highly versatile pick-up truck.
Station 2: Next-Gen Ford Everest Wildtrak – At this station, media is able to demonstrate the true essence of a family SUV that integrates adventurous performance with comfort. Participants will enjoy the upgraded Wildtrak's signature design elements that embrace boldness, toughness, and an exhilarating fun-to-drive. Moreover, they will experience next-gen Everest Wildtrak's impressive 800 mm water-wading capabilities, and its 4WD drivability in six selectable modes for optimal performance on any terrain.
Station 3: Next-Gen Ford Ranger Raptor (2.0L and 3.0L) – Packed with its Ford Performance DNA, this is a high-performance pick-up truck that can push the limits and challenge the drivers to conquer any road condition. Participants will get to navigate off-road routes around Seo My Ty Lake with ease, which includes rocky surface trails, mud, and sand. They can experience the capabilities of the next-gen Ranger Raptor by operating utilizing its seven drive modes and utilizing Trail Control, the adaptive cruise control designed for off-road tracks, to effortlessly ascend and descend hills while maneuvering between obstacles. This activity also showcases Ford's advanced driver-assist technologies, including the Electronic Stability Program (ESP), Traction Control System with Electric Brake Booster, Roll-Over Mitigation (ROM), and 360-degree camera, along with other safety features.
About Vehicles from Test Drive
The Next-Gen Ford Ranger Stormtrak is an exceptional pick-up truck designed to cater to individuals who thrive on challenges. Powered by a 2.0L Bi-Turbo engine, the Stormtrak comes in 4×4 and 4×2 variants. It also features a fully automated park assist, a pioneering feature in the pick-up truck segment.
The Next-Gen Ford Everest Wildtrak comes with a powerful 2.0L Bi-Turbo engine paired with a 10-speed automatic transmission, delivering 210PS and 500Nm of torque. This SUV boasts 4WD capabilities with six selectable drive modes that optimize performance across various surfaces. These include Normal, Eco, Tow/Haul, Slippery, Mud/Ruts, and Sand.
Finally, the Next-Gen Ford Ranger Raptor, available in diesel 2.0L and petrol 3.0L variants, was comprehensively developed from the first-generation model, resulting in a bolder appearance and advanced technologies and safety features. Underpinning this new Ranger are, FOX shock absorbers with Position Sensitive Damping to empower off-road enthusiasts and allow them to elevate their adventures to the next level.
"Ford Next Level Journey was organized to showcase the exceptional performance of the latest variants, which have been meticulously developed by Ford's engineers to offer our valued Ford owners a wider range of refreshed and versatile options. This event offers immersive driving experiences, allowing the media to experience the powertrain, suspension, and enhanced comfort and convenience of these vehicles both inside and out. Furthermore, it highlights the inclusion of smart driver-assist features that offer peace of mind and safety throughout the journey. Ultimately, it will reinforce our unwavering leadership in automotive technology and innovation," said Kamolchanok Prasertsom, communications director, Ford ASEAN, and APDM